Specially designed for the European DTH markets, this LNB provides optimized reception capabilities for receiving high band circular polarized signals. It embeds a 10.75 GHz LO for easy connectivity with any Set-top box supporting a 10.75 GHz LO settings. The LNB fully supports high definition broadcasts and provides excellent noise figures performance. It enables the reception of signals from one satellite and its distribution to a single tuner Set-top box. Designed to meet strict specifications and manufactured to the highest industry quality standards, this LNB is an ideal solution for receiving circularly-polarized satellite broadcasts across Europe.
Main features:
LO frequency 10.75 GHz
Low phase noise
HDTV-DVB-S2 compliant
Low noise figure
Low power consumption
High cross-polarization isolation
High frequency stability
---
Technical specifications
High band input frequency range

11.7 GHz ~ 12.75 GHz
High band output frequency range
950 MHz ~ 2000 MHz
High band LO frequency

10.75 GHz
Noise figure

0.8 dB typ.
LO temperature drift
±2 MHz
LO initial accuracy
±1 MHz
Polarization

Circular
LO phase noise @ 1 kHz
-70 dBc/Hz max.
LO phase noise @ 10 kHz

-80 dBc/Hz max.
LO phase noise @ 100 kHz
-90 dBc/Hz max.
Conversion gain

55 dB ~ 65 dB
Gain ripple (over 26 MHz bandwidth)
±1 dB
Gain variation (over full band)
±3 dB
Image rejection

40 dB min.
1 dB compression point (@ output)
0.0 dBm min.
Cross polarization isolation
18 dB min.
Polarization selection - LHCP
10.5 V ~ 14.5 V
Polarization selection - RHCP
15.5 V ~ 21.0 V
Output VSWR

2.0 : 1 
In band spurious level
-60 dBm max.
Current consumption

100 mA max. @ 10.5 V ~ 21.0 V
Operating temperature

-30 °C  ~  +60 °C
Output impedance

75 Ω
Output connector type

F-Type (female)
Weight
90 g
Logistical info
Packaging dimensions (W x D x H)
10.7 cm x 6.2 cm x 6.8 cm
Packaging weight
0.1 Kg
Quantity per Carton
100 pcs
Carton dimensions (W x D x H)
45.5 cm x 32.5 cm x 36.5 cm
Carton weight
11.2 Kg
Quantity per pallet
2000 pcs
---

Images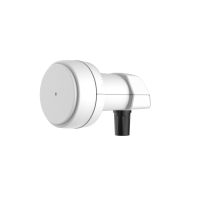 Download

FAQ
Q: What is an LNB?
A:
An LNB - Low Noise Block (also called an LNC- Low Noise Converter), it is used for communications (broadcast) satellite reception. The LNB is usually affixed either in or on the satellite dish and its purpose is to collect and amplify the satellite signal received from the dish and then down convert the signal to lower more manageable IF frequency which can then be carried over standard coaxial cabling to the receiver.
Q: What is a feedhorn?
A:
The feedhorn is a part of the LNB and works like a directional horn. Its function is to capture the signals reflected from the dish and to shield the LNB from receiving extraneous radiation from other sources. These collected signals are then passed form the horn to the electronics within the LNB.
Q: What is the difference between a Quad and Quattro LNB?
A:
A quad or quad switch LNB is an LNB where the multi switch is integrated into the LNB and gives 4 independent output ports for the connection of 4 receivers. A Quattro LNB has 4 outputs and each of the output's is set to one of the differing polarities, the 4 outputs are V/L, V/H, H/L & H/H. A Quattro LNB is normally used to feed a multiswitch which then allows the distribution of the signal to any number of satellite receivers. All four outputs of a Quattro LNB are marked accordingly with V/L, V/H, H/L & H/H to avoid confusion and malfunctions when connecting to the multiswitch.
Q: What is the HsQuare Technology?
A:
HsQuare is a unique waveguide technology which may be coupled with a slightly larger feed horn design to deliver better RF performances compared with common circular microwave waveguides.
Q: What is a monoblock LNB?
A:
This design consists of two independent LNBs in a single housing and allows a user the potential of receiving the signal from two different satellites which are at slightly different orbital opposition from a single dish installation. The switching between the satellitesis achieved via the use of DiSEqC signals or Toneburst (Mini DiSEqC). Monoblock LNB's are available mostly for satellites with a fixed 4.3° or 6° spacing and the range covers Ku band monoblock switch single, twin and quad outputs.
Example where a 6° monoblock LNB could be used is for the reception of ASTRA 1 (19.2° East) and Hotbird (13° East) or with 4.3° distance for the reception of ASTRA 1 (19.2° East) and ASTRA 3 (23.5° East).
Q: Why can I receive only one satellite with my monoblock LNB?
A:
For dual satellite reception the dish is normally initially aligned to the weaker of the two satellites and then some slight adjustment can be made ensure the best possible reception from both the satellites. A monoblock installation will require a slightly larger dish size than if only one satellite location had been chosen. Monoblock LNBs are designed to work on a specific dish size and it's important that the correct dish size is installed or both satellites signals may not be picked up at a sufficient level of strength to guarantee reliable reception.
Q: What is a wideband LNB?
A:
With a wideband LNB having only one local oscillator (e.g. 10.4GHz), and captures the full frequency spectrum of the satellite (300MHz to 2350MHz) which are delivered over two outputs from the LNB. One output carries all the vertically polarized signals whilst the second output carries all the horizontally polarized outputs. Whilst most of the current multiswitches on the market do not accept a wideband input the newer multiswitches such as newer Unicable switches are capable of accepting this as their input.
Caution: Wideband LNBs are not conventional twin LNBs. Wideband LNBs can be connected to a Unicable multiswitches that is designed for this purpose, or, if connected directly to a receiver, only with a suitable tuner.
Q: What does Unicable mean?
A:
Unicable is a new method for distributing satellite television. Several receivers (currently up to 32 in accordance with standard EN 50607) can be connected to only one single chain which is not possible with a conventional satellite distribution (star distribution in multi-switch mode). For more information about Unicable, see
www.inverto.tv/what-is-unicable-2